LEAK DETECTION
IN LAS VEGAS, NEVADA
HIDDEN LEAKS ARE DIFFICULT TO FIND
Our Leak Detection specialists will come to you and find your problem fast.
QUALITY SERVICE AT AFFORDABLE PRICES
We are an industry leader in non-invasive, accurate leak detection. Our highly trained technicians can find virtually any leak in your home, business, or property. It doesn't matter if it's in your main water line,
slab
,
pool
, spa, or sewer line. We can find it.
Hidden leaks that are left unattended can cause serious damage to your property and health. We have the experience and tools to find your hidden leak. With over 20 years of plumbing experience, there is no job too big or too small. We have seen it all. We work fast and solve your problem with minimal disruption and damage to your property.
---
WHY CHOOSE US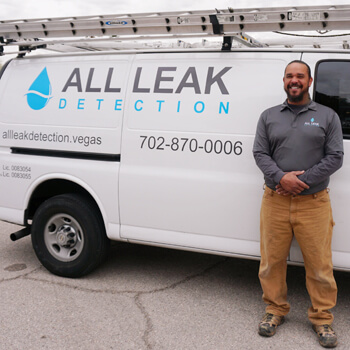 ✔ We come out fast and arrive on time.

✔ We provide an honest assessment and quote with transparent pricing.

✔ We complete projects on time.

✔ We respect our customers and their property.

✔ We use the newest technology and can find virtually any hidden leak.

✔ We employ only highly trained leak detection specialists.

✔ Our company has over 20 years of plumbing experience.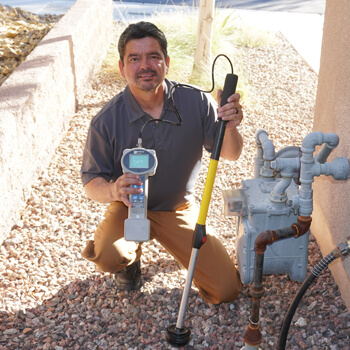 ---
WE ARE LEAK DETECTION EXPERTS
Repairs will be made by
All Trades
. You can put your trust in us. We will get the job done right the first time.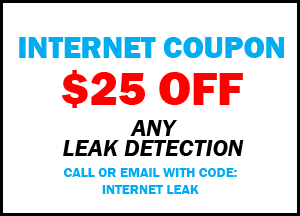 ---
DO YOU THINK YOU HAVE A LEAK? TRY THESE TESTS
Is your water bill exceptionally high lately? Has it been getting bigger and bigger each month? Try these tests and find out if you have a water leak in your home, business, or around your property. You can perform these tests on your own and it will give you an idea of how big your leak is.
The Meter Test
This test takes 30 - 60 minutes to complete. During the test you should not use any water in your home or business.
1)
Record the reading on your water meter. In Las Vegas, most meters are in the ground in a box near the font of your driveway or sidewalk.
2)
Wait 30 minutes then check the meter again. If the meter numbers are the same you do not have a leak and can stop the test here.
3)
Shut off the valves under all of your toilets. Repeat the test.
4)
If the numbers are the same it means the leak is coming from one of your toilets. If the meter numbers changed you will need a professional leak inspection.
To estimate how large your leak is, subtract the end reading from the start reading. Multiple this number times 48. This is how many gallons of water your leak is wasting per day.
The Bucket Test
Do you think you might have a pool leak? How can you know if water loss in your pool is due to evaporation or a leak? With the bucket test you can discover if you have a pool leak without having to call out a professional. This test takes 24 hours to complete.
1)
Make sure your pool is filled to its normal level. If your pool has an auto-fill or water leveler, turn it off.
2)
Place a 5 gallon bucket on your top-most pool step. Fill the bucket 1 inch from the top with pool water.
3)
Mark the water level inside the bucket with a crayon. Mark the water level of your pool on the outside of the bucket.
4)
After 24 hours, compare the water level marks. If the pool water level (the outside mark) has dropped by more than the inside mark, your pool has a leak. If the marks have dropped by the same amount, that is the amount of water your pool has lost due to evaporation.
Make sure you perform the test over a 24 hour period. Performing a shorter or longer test can give inaccurate results. If it rains during the test you will have to repeat the test from the beginning.
---
SIGNS AND SYMPTOMS OF A POOL LEAK
✔ You add water more than once a week.

✔ There are soggy or damp spots around the pool when it is not in use.

✔ You see cracks forming in the pool liner.

✔ Your pool equipment loses prime.

✔ Your pool has air in the recirculation system.

✔ Your pool deck is shifting or sinking.

---
DON'T PROCRASTINATE WHEN DEALING WITH WATER LEAKS
Water leaks that are left unattended grow into much more serious problems over time. You risk damage to your home and property.
Slab leaks can develop mold
and can pose a serious health risk to your family.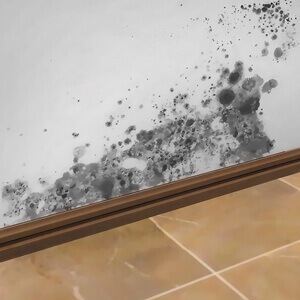 Mold growing in the walls due to a slab leak
Floor warping due to a slab leak
---
SERVICE AREA AND AVAILABILITY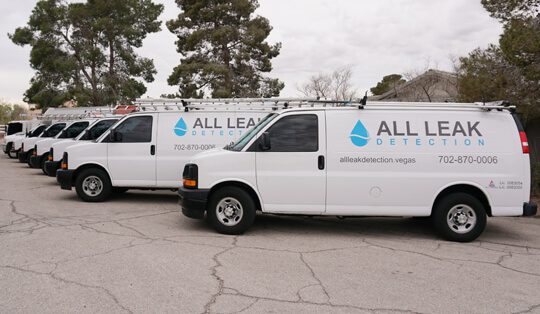 We service Las Vegas, Henderson, Boulder City, and most areas of Clark County, Nevada. We offer service 7 days a week, 24 hours a day. We are always here and available to serve you.

Financing is available through FTL Finance.